In the Ranks
Gary Mason Martin was born and raised in Des Moines, Iowa. Gary Martin lives in Kansas City, MO. He joined the Sons of the Union Veterans of the Civil War as a Member at Large on 01 May 2006, signed by John Martin.
My Grandmother Hattie "Churchill" Martin moved to Iowa from Wisconsin in 1868.
Her father Mason Churchill had two brothers Urias and Arthur Smith Churchill who both enlisted on 7 August 1862 in Jefferson Township Wisconsin. Her mother Lucy "Robinson" Churchill had one brother Cyrus B Robinson, and her Aunt Calista "Robinson" Mitchell's husband Judson Mitchell also joined the Union Army. All but Cyrus mustered into the 22nd Wisconsin Volunteer Infantry Company K on 9 September 1862. The three served in all campaigns and engagements of the regiment. They were taken prisoner 5 March 1863 at Thompson's Station, Tennessee and exchanged in April 1863. Urias was killed 15 May 1864 at Resaca, Georgia and buried in the fort where he fell, but was reburied at the Chattanooga National Cemetery, Chattanooga, Tennessee. Arthur Smith who attained the rank of Corporal and Judson Mitchell who was the Company's First Sergeant mustered out 12 June 1865 near Washington D.C. Cyrus joined the 13th Wisconsin Volunteer Infantry and died of disease in Nashville, Tennessee. He is buried at the Nashville National Cemetery. The picture is of one of these ancestors, unfortunately nothing was written on the back so I do not know which one he truly is. I am very proud to be related to each of these patriots.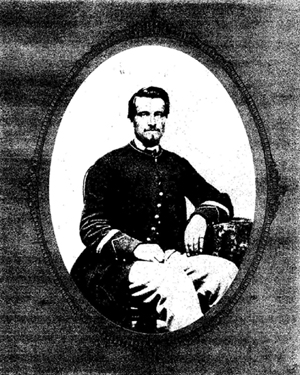 Urias or Arthur Smith Churchill.