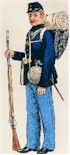 In the Ranks

Brian L. Watts of Kansas City is also Charter Member of Westport 64. He is the descendant of three veterans: his great great Grandfather William Anderson Sparks of Company I, 145th Illinois Infantry. His great great granduncle was Robert D. Sparks. Brian's last ancestor was his great great great grandfather, Holden Tripp Vaughn of Company H, 2nd Pennsylvania Heavy Artillery, Company F, 30th Pennsylvania Militia, and Company H, 52nd Pennsylvania Infantry.
Here is more on Brian's ancestors:
I have three known ancestors who served in the War. The ancestors I know the least about are William Anderson Sparks and Robert D. Sparks. William Anderson Sparks was born on May 14, 1846 in Illinois. He died on March 3, 1924 in Mt. Etna, Iowa. I am the 2nd Great Grandson of William. William was called "Dan". The reason for that is unknown. William served in the 145th Illinois Infantry, Company "I". The 145th was organized at Camp Butler and mustered in for 100 days, June 9, 1864. Ordered to St. Louis, Mo., June 12, and duty in that District till September. Mustered out at Camp Butler September 23, 1864. Regiment lost during service by disease: 40. From A Compendium of the War of the Rebellion, vol. III, Regimental Histories by Frederick H. Dyer [1908].
William's brother, Robert D. Sparks was born October 26, 1842, probably in Illinois as well. I am the 2nd Great Grandnephew of Robert. The only mention of Robert is that he was a prisoner at Libby Prison in Richmond. I heard once that he was one in the group that escaped from the prison. After he escaped, he went back home. He felt guilty about leaving the Army without a discharge, so he reenlisted and served to the end of the War. I'm still trying to verify that story.
The ancestor I know most about is Holden Tripp Vaughn. I am the 3rd Great Grandson of Holden. Holden was born on July 15, 1825 in Providence, Luzerne County, Pennsylvania. He died January 26, 1893 at his home in Villisca, Iowa.
Holden enlisted in the Mexican War on December 16, 1846 Under Capt. Dana, Company "I", 1st Pennsylvania Volunteers, commanded by Col. F.L. Wynkoop. He fought in the Vera Cruz campaign. He was discharged on June 8, 1847 at Jolappa, Mexico. Out of 100 men that went only 40 came back; the others were either killed in battle, or died of disease.
In 1861, he enlisted for three months service in Company "H", 2nd Pennsylvania Heavy Artillery and served until his enlistment was up. On June 15, 1863 he enlisted under Capt. Davis Edwards, Company "F", 30th Pennsylvania Militia in the emergency and was discharged on July 26, 1863. On October 29, 1863 he enlisted in Company "H", 52nd Pennsylvania Infantry under Capt. Charles C. Battonburg to serve three years. He was discharged on July 12, 1865.
In January 1882 he came to Villisca, Iowa after moving to New York in 1876. He united with the Masons in lodge # 61 located at Wilkes Barre, Pennsylvania and was made Master Mason. In 1850, he became a member of Hiram lodge #261 at Providence. He joined G.A.R. post #101 on November 25, 1868.
In the Mexican War Pension Book there was noted a Holden T. VAUHN and Sarah, Pa, Iowa, 11/26/87. There were several other Vauhns spelled this way also. The Vaughn name is British in origin, but could be Welsh or Irish. Other variations of the name are Vaug-han, Vaug-hen, Vaugn, Vaughan, Vawn, Vahan, Vonn, and Baughan.
It is said that Holden enlisted in the militia for the emergency in June, 1863. I have often wondered if the state was calling for volunteers because of Lee's invasion of the North leading to the Battle of Gettysburg, but that is just speculation...