Union Links
S.U.V. National Home page: This page includes membership information, General Orders from the Commander-in-Chief, Announcements, history of the G.A.R. (Grand Army of the Republic) and the S.U.V., as well as other information.
Missouri Department of the S.U.V: This is the brand new official site of the Department of Missouri!
Grand Army of the Republic Home page: This page has a history of the G.A.R. and pictures of medals and badges, as well as links to similar sites and information on tracing Veterans.
Medal of Honor Home page: This site lists every soldier who received the medal in all American engagements.
The MCWRA (Missouri Civil War Reenactors' Association): Civil War reenactors are men, women, and children who have a strong interest in the period known as The War Between the States. Because of this interest, they spend as much time as possible dressing, talking, sleeping, and portraying the lifestyle of that time.
Civil War Soldiers & Sailors System: A database of soldiers who fought on both sides of the war.
Index of Union Regiments from Missouri: A complete listing of units in Missouri who fought for the Union.
Civil War Photographs from the Library of Congress: Photos of soldiers and places in the war.
SUVCW National Graves Registration Database: The National Graves Registration Database is now available to all. The database was activated February 22, 2005. This will make all original registrations available for viewing by the general public, as well as allowing for new registrations to be entered through our online program.
Find A Grave: Find Famous Graves - See the graves of thousands of famous people from around the world. Find the graves of ancestors, create virtual memorials, add 'virtual flowers' and a note to a loved one's grave, etc.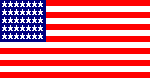 THE 35-STAR FLAG (1863-1865)