Ceremony held at Pisgah Cemetary
The July 18th, 2005 Daily News of Richmond, Missouri edition is shown below. Over 160 people attended the ceremony dedicating a new marker on the mass grave of six Union soldiers, members of the 2nd Colorado Calvary who were killed nearby 17 July 1864, 141 years ago. Guests and attendees included several family members of the deceased soldiers, guest speakers Rep. Bob Nance (District 36), Dressed as President Abraham Lincoln, Max Daniels, Wheaton, IL, Jim Beckner who was the master of ceremonies, Brian Smarker who provided countless hour of research on this project and Charles McCorkendale. Finaly, without the support from Charles McCorkendale and Brian Smarker, the stone grave marker could not have happened. Many hours of coordination and time was spent preparing the marker for presentation.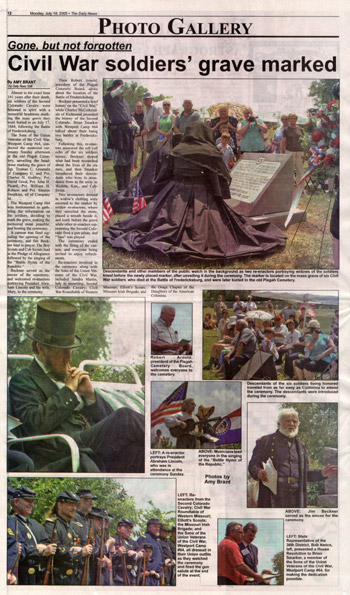 The pictures above include the "Mourning Spouse", Max Daniels as "Abraham Lincoln", Charles McCorkendale as a guest speaker, family members seated next to grave marker, local entertainers, Jim Beckner who was the "Master of Cerimonies", local re-enactors who fired several vollies of gun fire in honor of the fallen troops, and Rep. Bob Nance (District 36) and Brian Smarker.
Back to Ceremony held at Pisgah Cemetary