In the Ranks
Lee Ward lives in Independence, MO. Lee transferred into Westport Camp #64 after changing his previous status as a Member at Large Member on 1 November 2005, signed by John Martin, Missouri Department Commander.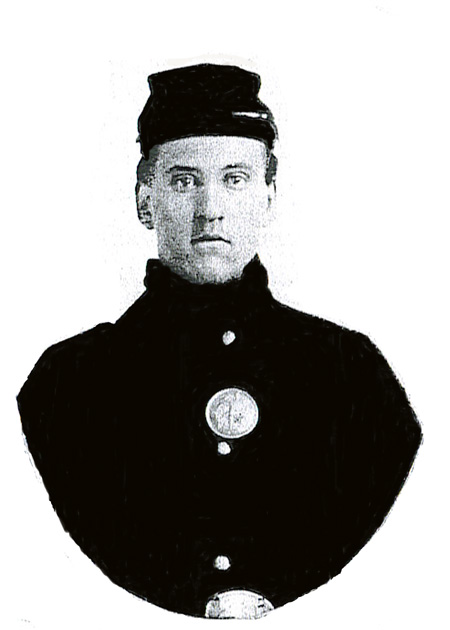 Lafayette Ward (1845-1882)
Ancestry: Lafayette Ward, Company D, 135th Voluntary Infantry Regiment, Indiana; Enlisted on 6 May, 1864 at Crawfordsville, IN; Honorably Discharged on 15 December, 1864 (By Reason of Medical Discharge.)
Lafayette Ward (9th child born to David and Eleanor (LaFuse) Ward) was born on 5 July 1845 in Montgomery County, Indiana; died 14 March 1882, and is buried at Carpenter Cemetery, Johnson Co., Missouri near Chilhowee, MO. He married on 24 January 1867, Montgomery County, Indiana to Melissa Ann Waugh, the daughter of (Milo and Elizabeth (Kious) Waugh); born 24 April 1850 in Montgomery County, Indiana. She died in Blairstown, MO, on 3 January 1932 and is buried at Carpenter Cemetery, Johnson Co., MO. While living in Indiana, one son was born to them -- William Sherman Ward.
Lafayette Ward joined the 135th Voluntary Infantry in 1864 at Crawfordsville, Indiana to help the Union fight in the Civil War. He was a Private in Company D. While serving in Stevenson, Alabama, he experienced a heat stroke. He was unable to complete his enlistment time. It was said that his early death in 1882 was a result of the heat stroke he suffered.
In December of 1869, via the Missouri Pacific Railroad, the Ward family came to Holden, Missouri, where Melissa's family met them at the train station.
Lafayette lived in Missouri until his death in 1882. Melissa raised five boys on her own. She remarried 28 January 1890 in Blairstown, Missouri to Abraham Crites.
The fanily Bible remains in the family today for verification of names and dates of family members.
I can provide information on the other children if requested. Otherwise this is my direct line.
Descendants of Lafayette Ward
1 Lafayette Ward (5 July 1845 - 14 March 1882)
.. +Melissa Ann Waugh (24 April 1850 - 3 January 1932)
........ 2 Oscar Theodore Ward (13 March 1879 – 17 March 1961)
............ +Alice May Albin (21 November 1881 – 16 October 1954)
................... 3 Orval Lafayette Ward (19 January 1913 – 16 July 1984)
....................... +Helen Marie Pryor (9 August 1916 – 28 January 2006)
............................. 4 Ira Lee Ward (9 July 1946 - )
................................. +Emily Rae Fluke (28 March 1948 - )

I have one son (Blaine Edwin Ward) and one daughter (Betsy Jane Ward Bain), and three granddaughters, Shelby Rene and Jordan Alexandria Bain and Emily Eileen Ward.
In addition, Westport Camp #64 has the distinction of having Lee Ward as a member who is a Curator of a Civil War Museum. For more information on this museum, please contact Lee Ward, (816) 373-2600 or click here: Local Civil War Museum.